For Aventura and Surrounding Areas: Experienced 5-Star Rated Podiatrist, Dr. Adriana Strimbu Welcomes You
Welcome to our podiatry practice. Thank you for visiting our website. We are happy to extend our services to patients in Aventura, FL. Our podiatry office, Adriana Strimbu, DPM, PA is located just a couple of miles away from Aventura.
Directions: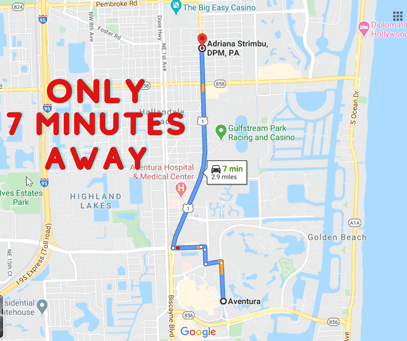 Get directions from Aventura to Podiatrist, Adriana Strimbu, DPM.
Via US1 / Biscayne Blvd: Take US1 / Biscayne north. Pass Hallandale Beach Blvd. and continue north to NE 4th Street. Our office is the blue free standing building on your right (east side of US1) between NE 4th St. and NE 4th Court. Free parking is in the back of the building.
Please take advantage of all the information provided on our website about foot and ankle pain and our Hallandale Beach Podiatric Office , Adriana Strimbu, DPM, PA.
You can call our podiatry office to schedule an appointment at 954-455-9404 or book an appointment online here now. Remember, we are here because Podiatry Works!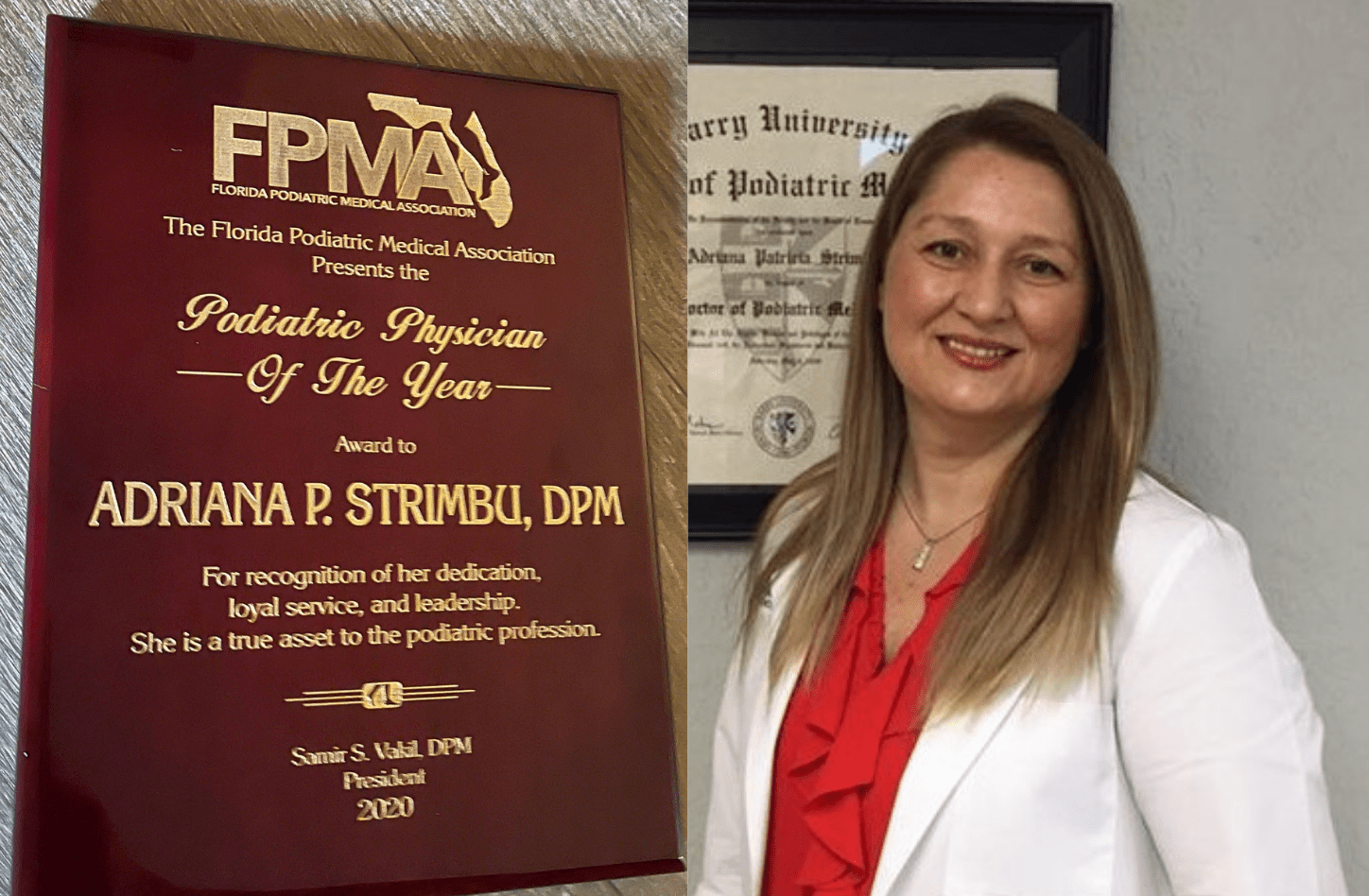 Testimonials
"Doctor Strimbu is excellent, the office is clean and staff and dr. very friendly. I would highly recommend this doctor."
Valery Ayzenberg - Google reviews
"This is the podiatrist that everyone wishes they went to. There is never a long wait and the attention you get is perfect. I have been going to Dr. Strimbu for many years and have had many foot issues. Some of them serious and some not serious, but I always left satisfied. The office cares about you and that is important, you are not just a number. "
Garry Kramer - Google Reviews
Accepted Insurances: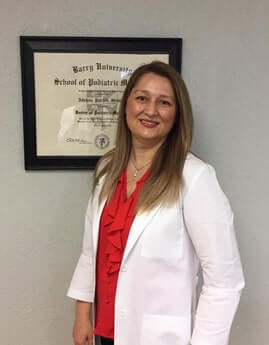 Medicare
Medicaid
Cigna
Bright Health
Molina
Simply
Humana (must be part of the icare network)
United Health Care
Staywell
WellCare
Coming soon: Aetna, Ambetter, Sunshine Health
Also accepting all major credit cards
Conditions We Treat:
Treatments we specialize in:
Schedule Your Patient Consultation Today!
If you or a loved one are experiencing foot, ankle, or heel pain, then we invite you to schedule your patient appointment today.
Patients in Aventura can call 954-455-9404 to reach our Hallandale Beach office and speak with one of our friendly team members.
You may also click here to make an appointment online.
While our podiatry office is conveniently located in Hallandale Beach, FL, we serve patients from Dade and Broward County including Aventura .....
Hallandale Beach | Hollywood | Fort Lauderdale | Aventura | North Miami | Miami | Sunny Isles Beach | Pembroke Pines | Coral Gables | Surfside | Bal Halbor | Plantation | Cooper City | Weston
TESTIMONIALS
Read what our clients says about us.
"Dr. Strimbu is an exceptional physician, caring, kind, helpful and attentive not only to middle aged but also to the elderly patients. Not many doctors do that today, but at the this clinic things are not like anywhere we had seen. The professional office staff will assist you in any way possible to many different services and procedures that the facility offers including x-rays, ultrasound, different kinds of tests and power equipment, all to help you get back on your feet. Literally. My father, who is 88 began loosing feeling his left leg and could barely walk until Dr.Strimbu discovered, diagnosed and eliminated the root cause of the problem and now my dad is back to walking on his own without cane or wheel walker. We would recommend Dr.Strimbu to everyone who wants to be properly taken care of. Thank you for helping our dad, we are very grateful. " SAM LUNGIN - GOOGLE REVIEWS
"My mother is patient of Dr. Adriana for long time, she is very profesional and take good care of her. Dr. Adriana team are very hard working and very sweet.. If you are looking for podiatry specialists she is the one. " TATIANA SOLES - GOOGLE REVIEWS
"Always very caring and professional. " ROBERT JOHN - GOOGLE REVIEWS
"Dr. Strimbu is awesome!!! I went in with plantar fasciitis and an ingrown toenail. She was patient and advised me on the plantar and took care of the toenail. " DARIN KOCH - GOOGLE REVIEWS
"Used her services in the past and found her to be very caring, reliable and professional. If you want to feel treated by a doctor like a person and not like cattle (as many places do) This the one you need." LUIS ROMAN - GOOGLE REVIEWS
"I have been with doctor Strimbu for at least 10 years. I highly recommend her. She really cares about you. Office staff is super friendly and appointments are always on time. " BEN CALVET - GOOGLE REVIEWS
"Dr. Strimbu is excellent, the office is clean and the staff is friendly. " ELI GONZALEZ - GOOGLE REVIEWS
"Doctor Strimbu is excellent, the office is clean and staff and dr. very friendly. I would highly recommend this doctor. " VALERY AYZENBERG - GOOGLE REVIEWS
"I wish to acknowledge to great professional work that I am receiving from Dr. Strimbu, she is great specialist revealing, excellent manners, and she is able to communicate with the patient, sensitive to patient's needs and I would appreciate if this acknowledgment will be announce. Being a physician myself I can appreciate her services as a professional for 4 years serving to my patients My impression about Dr. Strimbu is very high and I am very grateful for her services, besides I wish to express special thank you for great services of her staff Mary and Dina. Who makes office work running smoothly and knowledgeably Thank you." MARK LEV -GOOGLE REVIEWS
"Dr Adriana Strimbu is very knowledgeable and experienced doctor, and a thoughtful caring person. Her office is always clean and the staff members are very friendly and welcoming. I would highly recommend this doctor." MARY MOSTSINSKER - GOOGLE REVIEWS
"I have lived in Miami since 1949 and as a result have visited many Podiatrists in those years. Dr, Strimbu is by far the very best one ever. She pays attention to detail and takes excellent care of my wife"s feet as well. Her office staff is super good and kind. I have never waited more that 5 minutes for my appointment. If you have a need to have your feet taken care of, this is where to go. " BURRIS MILLSTONE - GOOGLE REVIEWS
"I am the patient of Dr. A. Strimbu for many years and feel very comfortable with her.She is outstanding doctor, always ready to help people and does her job very smoothly without any hurt. You can always get medical professional advice and we are lucky to have this doctor in our community. " GALINA VARON-GOOGLE REVIEWS
"This is the podiatrist that everyone wishes they went to. There is never a long wait and the attention you get is perfect. I have been going to Dr. Strimbu for many years and have had many foot issues. Some of them serious and some not serious, but I always left satisfied. The office cares about you and that is important, you are not just a number. " GARRY KRAMER-GOOGLE REVIEWS