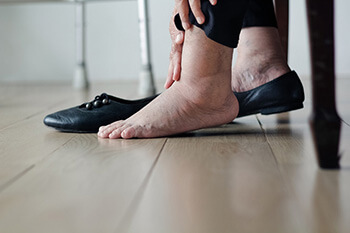 Edema is a condition where excess fluid gets trapped within the body's tissues, causing the area to become swollen. When edema occurs in the feet or ankles it can be uncomfortable-even painful at times-and may make it difficult to wear shoes.
Edema typically is no cause for alarm, and mild edema usually resolves on its own with some basic care and lifestyle changes. However, when edema does not go away or becomes increasingly painful, it may be indicative of a more serious condition.
What Causes Edema?
There are many possible reasons why the feet and ankles may swell, including:
Poor circulation, sometimes caused by:

Diabetes
Peripheral artery disease (PAD)
Atherosclerosis
Vasculitis
Pregnancy
Injuries
Prolonged periods of standing or sitting
Obesity
Dehydration
Deep vein thrombosis
Certain medications
Sodium-rich diet
Underlying diseases such as diabetes, congestive heart failure, liver or kidney disease, etc.
Symptoms of Edema
Aside from the discomfort associated with swollen feet or ankles, edema may also cause tingling or burning sensations, numbness, stiffness, skin discoloration, or muscle weakness/cramps in the affected area. It may even slow down the growth of hair and nails.
The buildup of fluid in non-pitting edema is typically composed of water and various other liquids such as salts and proteins. In pitting edema (where a depression in the skin occurs when pressure is applied to it), the fluid is mostly composed of water. There are four grades of pitting edema:
Grade 1: When the skin is pressed, a depression up to 2mm forms, but the skin rebounds immediately.
Grade 2: When the skin is pressed, a depression up to 3-4mm forms, which rebounds within 15 seconds or less.
Grade 3: When the skin is pressed, a depression up to 5-6mm forms, which rebounds in 60 seconds.
Grade 4: When the skin is pressed, a depression of 8mm forms, which rebounds within 2-3 minutes.
How is Swelling in the Feet and Ankles Treated?
Your podiatrist will examine you and may perform various tests to pinpoint the cause of swelling. Depending on their diagnosis and whether your edema is non-pitting or pitting, your podiatrist may instruct you to elevate your feet, wear compression socks, take certain medications such as diuretics, restrict your salt intake, lose weight, exercise your legs, and more.
If you have uncomfortable or painful swelling (or other symptoms previously mentioned) in your feet or ankles, contact your podiatrist right away to have your edema diagnosed and treated properly.