For Hallandale Beach and surrounding areas: Come experience 5-star-rated care with podiatrist Adriana Strimbu and get back to enjoying your life pain-free!
So, do you have gout? Do you have a red, hot, painful, swollen big toe, more at its base and you don't recall injuring your foot?
Did your pain, redness and swelling come on over night and you don't recall injuring your feet?
Did you consume red meat, seafood, or alcohol?
Are you taking diuretics / water pills?
If yes, then it is possible that you may be experiencing an acute gouty attack. Please feel free to click here and make an appointment online now so that you can come in right away. We know your foot is in pain and we want you to seek help right away. We have same day appointments available. You can also call our office at (954) 455-9404 and schedule an appointment online now.
Pictures of Acute Gouty Attack: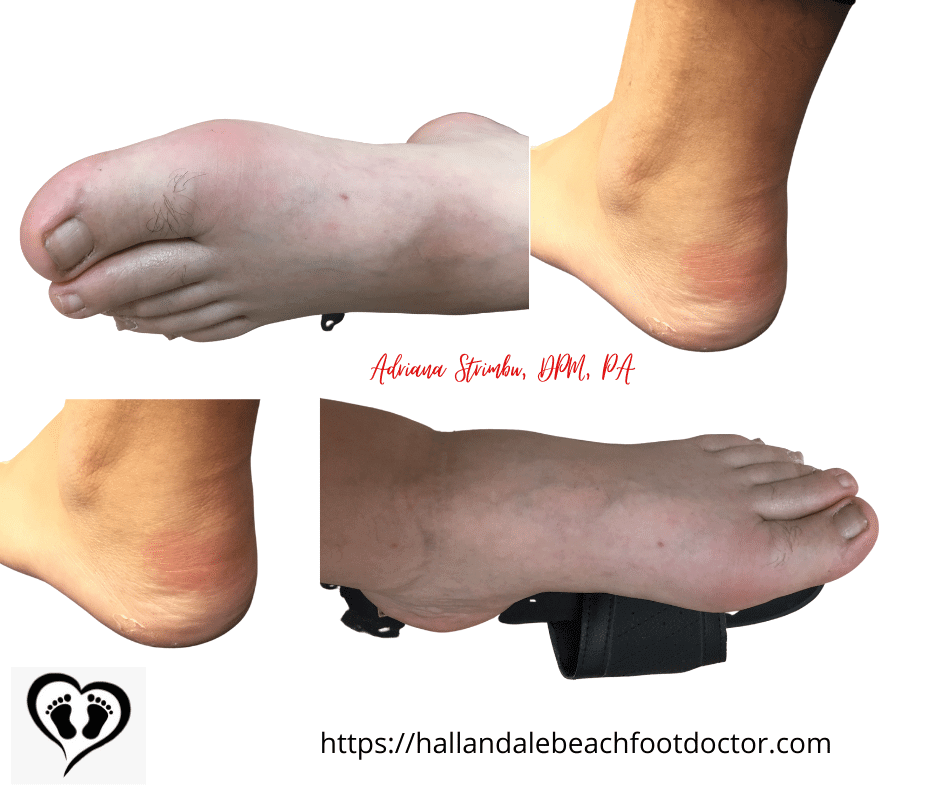 Risk Factors for Gout
The risk factors for gout are:
Some medications such as diuretics (water pills), Beta blockers, Levadopa, Niacin (Nicotinic acid), Cyclosporine
Some medical conditions such as: kidney disease, Diabetes, HTN, Heart disease, Hypothyroidism, some cancers, Psoriasis, some genetic disorders
Alcohol consumption
Consumption of red meat, organ meat and some seafood (shell fish), oatmeal, cereals
Consumption of beverages sweeten with high fructose corn syrup
Males are more affected then female (female sex hormones usually cause more excretion of uric acid)
Blacks and Asians are more affected
Having family history of Gout
Diagnostic Criteria for Gout
According to the American College of Rheumatology the diagnostic criteria for gout are:
Presence of urate crystals within the joint fluid
or
Presence of thopus (proven that it contains the urate crystals either chemically or by polarized light microscopy)
or
Presence of 6 or more of the following clinical, laboratory or radiologic findings
Asymmetric swelling within a joint on radiography
Attack of monoarticular arthritis
Culture of joint fluid negative for microorganisms during attack of joint inflammation
Development of maximal inflammation within one day
Hyperuricemia
Joint redness
More than one attack of acute arthritis
Pain or redness in the first metatarsophalangeal joint
Subcortical cyst without erosions on radiography
Suspected tophus
Unilateral attack involving first metatarsophalangeal joint
Unilateral attack involving tarsal joint
How to Prevent Gout?
Number one key thing to do to prevent gout is to watch your diet. Avoiding a diet which is high in purines / uric acid is the best.
Here is a list of foods that should be prevented and foods that are beneficial for gout.
Also drink plenty water to flush out the uric acid from your body.
Common Questions About Gout:
What is Gout?
Gout is a form of arthritis. It is very common and complex. It is usually appears suddenly and it presents as severe pain, redness, swelling, stiffness and tenderness in the joints. Gout is usually found at the base of the big toe or more precise within the first metatarsal phalangeal joint but it can be occur in other parts of the foot as well such as small toes, posterior heel, lateral foot, elbow, ankle, knee. It can also be found in ears. Gout can be acute or chronic.
What is the difference between acute and chronic gout?
Acute gout comes on sudendly, it causes pain, redness, swelling usually to the big toe and goes away within a few days to one week. Onces, the gouty attack resolves you will not have anymore symptoms.
With chronic gout, you will have the more two or more gouty attacks a year. People with chronic gout will feel the gouty symptoms almost all the time. It will usually affected more then one joint. If left untreated, chronic gout can cause kidney damage and/or failure.
Can kidney disease cause gout?
Yes. Kidney disease can cause gout but also gout can cause kidney disease if left untreated.
What is the main cause of gout?
The main cause of gout is due to too much uric acid in the body or what is called in medical terminology, hyperuricemia.
What are the symptoms of gout?
The symptoms of gout are severe and intense pain in the affected joint followed by warmth, swelling, reddish discoloration, and marked tenderness. This is known as an acute gouty attack.
How long does an acute gouty attack last?
An acute gouty attack will last about 3 -4 days if treated and up to 14 days is untreated.
Should I walk with gout?
When you have a gouty attack, it is very painful to walk. You have inflammation, and red, swollen and painful joints. Resting is a good idea. You may also want to ice the affected areas to help decrease the swelling. Also try to avoid any shoe that is too tight to prevent pressure to the feet.
What is the most important thing to do to prevent a gouty attack?
The most important thing to do to prevent a gouty attack is to watch your diet. You need to make sure you follow a strict diet and avoid foods that contain high amount of purines in them.
What are top foods that cause acute gouty attack?
Top 3 foods that may cause an acute gouty attack are red meats, seafood and alcohol.
Is there a walking boot for gout?
A short leg CAM walking boot or a post op surgical shoe may be used for one week to help immobilize the foot and avoid pressure to the area and give your foot rest while healing.
What is best immediate pain relief for gout?
For best immediate pain relief for gout, your podiatrist or other healthcare specialists might give you a cortisone injection. Also there is special medication designated for gout that will help you with pain and inflammation and help reduce the uric acid.
What are some tests available for gout?
Some tests that are available for gout are synovial joint fluid aspiration, uric acid in blood test, uric acid in urine test, DECT scan
What is a DECT scan?
DECT scan stands for Dual Energy CT scan. It uses two types of x-rays to take pictures inside your body. It is good because it will find urate crystals in your body that other tests cannot.
What is the best treatment for gout?
Treatment for gout depends on whether you have an acute gouty attack or chronic gout. For the acute gouty attack, nonsteroidal antiinflammatory medication, cortisone injection or colchicine can be used. For the chronic gout, allopurinol is the best treatment. However, most important is to keep the uric acid level below 6 mg/dL.