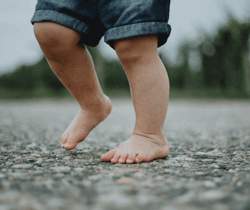 Does you child complain of aching and pain in the feet?
Does your child walk with a limp?
Does your child walk with the feet inward or outward?
If you answered yes, they most likely need children's foot care from Dr. Adriana Strimbu, skilled pediatric podiatrist in Hallandale Beach, FL. Dr. Strimbu evaluates and treats children of all ages and would be happy to help your child as well.
There are many pediatric problems that resolve as your child grows however some do not. It is important that you have your child's feet evaluated to prevent other lower extremity issues later in life.
Having your children's feet checked will ensure that small foot problems won't be turning into big problems. The best time to bring your child for their foot exam is after your child starts walking.
If you are concerned with your child's foot health call 954-455-9404 to schedule your child's pediatric foot examination with our skilled pediatric podiatrist or schedule an appointment online now.