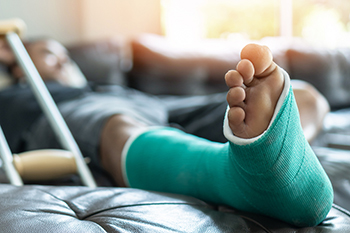 One of the most common injuries, a broken foot, is characterized by worsening pain, bruising, and swelling. It is usually accompanied by a loss of feeling, a limited range of movement, and difficulty in bearing weight. Two of the top causes of a broken foot are severe impact in car accidents and trauma from dropping something heavy on the foot. Another common way to break or fracture the foot, especially among athletes, is kicking a ball. Sudden impact combined with running speed can increase the risk. It is also quite common to break your foot from a fall, especially down stairs or onto a particularly rigid surface. Both sports injuries and falling can result in a twisted ankle, which can mask the fact that a bone also has broken. Taking a wrong step, such as off a curb or ladder, can result in foot fractures. Underlying conditions, like arthritis, may also contribute to the risk. Wearing shoes that lack proper stability and support, such as high heels, may cause a loss of balance or a fall that leads to a broken foot. Repetitive impact, common to runners and joggers, is a common cause of stress fractures in the feet. If you believe you have broken your foot, please seek immediate care from a podiatrist.
A broken foot requires immediate medical attention and treatment. If you need your feet checked, contact Adriana Strimbu, DPM from Florida. Our doctor can provide the care you need to keep you pain-free and on your feet.
Broken Foot Causes, Symptoms, and Treatment
A broken foot is caused by one of the bones in the foot typically breaking when bended, crushed, or stretched beyond its natural capabilities. Usually the location of the fracture indicates how the break occurred, whether it was through an object, fall, or any other type of injury. 
Common Symptoms of Broken Feet:
Bruising
Pain
Redness
Swelling
Blue in color
Numbness
Cold
Misshapen
Cuts
Deformities
Those that suspect they have a broken foot shoot seek urgent medical attention where a medical professional could diagnose the severity.
Treatment for broken bones varies depending on the cause, severity and location. Some will require the use of splints, casts or crutches while others could even involve surgery to repair the broken bones. Personal care includes the use of ice and keeping the foot stabilized and elevated.
If you have any questions please feel free to contact our office located in Hallandale Beach, FL . We offer the newest diagnostic and treatment technologies for all your foot and ankle needs.
Read more about Causes, Symptoms, and Treatment for a Broken Foot