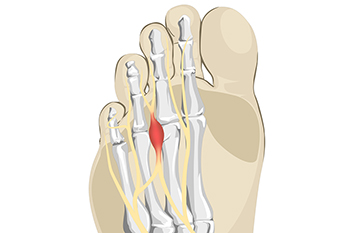 A Morton's neuroma is a noncancerous swelling along the nerve in the foot that carries sensations to the toes. It usually develops between the third and fourth toes and less often between the second and third toes. Women are more apt to suffer from this condition than men, perhaps because they are more likely to wear high-heels or narrow-toed shoes. Being overweight and standing for prolonged times also increases the risks of developing a Morton's neuroma. While it is not known why this nerve begins to swell, once it does, the bones and ligaments nearby put pressure on the nerve, creating more irritation and inflammation. As a result, there can be burning, pain, numbness, and tingling in the toes. Some with this condition say they have a sensation of a lump or pebble in their shoe. A Morton's neuroma does not go away but symptoms may abate. Wearing comfortable shoes, with low heels, good arch support, and plenty of space in the toe box will help reduce the risk of developing a Morton's neuroma. If you feel you have such a problem, see a podiatrist who can confirm the diagnosis and provide treatment.
Morton's neuroma is a very uncomfortable condition to live with. If you think you have Morton's neuroma, contact Adriana Strimbu, DPM of Florida. Our doctor will attend to all of your foot care needs and answer any of your related questions.  
Morton's Neuroma
Morton's neuroma is a painful foot condition that commonly affects the areas between the second and third or third and fourth toe, although other areas of the foot are also susceptible. Morton's neuroma is caused by an inflamed nerve in the foot that is being squeezed and aggravated by surrounding bones.
What Increases the Chances of Having Morton's Neuroma?
Ill-fitting high heels or shoes that add pressure to the toe or foot
Jogging, running or any sport that involves constant impact to the foot
Flat feet, bunions, and any other foot deformities
Morton's neuroma is a very treatable condition. Orthotics and shoe inserts can often be used to alleviate the pain on the forefront of the feet. In more severe cases, corticosteroids can also be prescribed. In order to figure out the best treatment for your neuroma, it's recommended to seek the care of a podiatrist who can diagnose your condition and provide different treatment options.
If you have any questions, please feel free to contact our office located in Hallandale Beach, FL . We offer the newest diagnostic and treatment technologies for all your foot care needs.
Read more about Morton's Neuroma