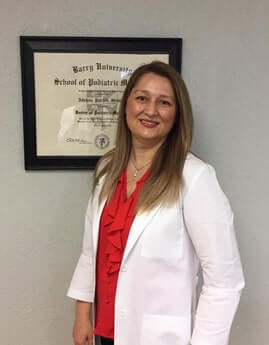 Adriana Strimbu, DPM
Dr. Strimbu, a foot and ankle physician, provides a wide variety of podiatry services. She is trained to diagnose, evaluate and treat a wide range of foot and ankle conditions including: heel pain, bunions, fungal toenails removal, ingrown toenails removal treatment, plantar fasciitis, achilles tendonitis, flat feet, kids feet, plantar warts, foot and ankle sprains, fractures, hammertoes, diabetic foot care, corn and callus removal, swollen feet, ankles and legs, morton's neuromas, metatarsalgia, wounds. Adriana Strimbu, DPM, PA provides Hallandale Beach Podiatry Services.
Dr. Strimbu can help you compensate for any bio-mechanical imbalance with custom made foot orthotics / shoe inserts, which are uniquely made for your foot type and shape. Custom orthotics / shoe inserts will make walking more comfortable and prevent future foot and ankle problems.
She is also specializes in diagnosis, treatment lower extremity problems including: ingrown toenails, fungus toenails, diabetic foot care, heel pain, ankle and nerve injuries, sport injuries, flat feet, pediatric foot care, wound care, gout, circulation problems, arthritis and any bone pain, skin ,tendon and muscle disorders, biomechanical exams.
Foot and ankle specialist
Born in Romania
Education
High School :
Undergraduate studies:
Bachelors of Science, Biology
Podiatry School:
Doctor of Podiatric Medicine
Residency:
Cedars Medical Center 2000 - 2002
Professional Accreditation:
NBPME Part I
NBPME Boards Part II
NBPME Boards Part III – PM Lexus
State of Florida Podiatry License
Appointments:
Work Experience:
Private practice in Hallandale Beach, FL since 2002- present
Adjunct Clinical instructor, Barry University School of Podiatry2002-2012
Podiatrist for CHC in Miami, FL 2002-2014
Podiatrist for Helen Bentley Family Health Center, Miami, FL 2004-2007
Research:
Professional Publications:
Evaluation of a patient self-administered monofilament test for diabetic foot problems.
Published in: Diabetes.52 (supplement1): A194
Professional Associations:
Awards:
Podiatrist of the Year 2020 - awarded by FPMA
Hallandale Beach Award 2020
Family:
Dr. Strimbu is married, with 3 children, two girls (Megan and Emma) and one boy (Daniel).